Palm leaf plates for all requirements
If you are looking for an exclusive single-use solution, you have to meet our high quality and decorative disposable palm leaf plates. Palm plates are very strong and available in various shapes and sizes. They are food-safe and can be used for both hot and cold dishes.
Read on
Areca leaf plates: classical round shape but different
Our typical round palm plates are suitable for numerous purposes: from catering events with grilled dishes to big outdoor buffets. Your guests will be impressed by the environmentally friendly disposable palm leaf plates. We have four different sizes of round palm leaf plates for various dishes as well as two additional sizes with flat edges that are suited as pizza plates. Roasted or grilled food is easy to cut on a palm plate and you may also serve sauce-containing dishes on it. Due to the natural composition of the palm leaf, our ecological palm plates have a moisture repellent surface.
Palm leaf plates with edges
Those who prefer modern design also have the choice between different angled palm plates. An angled palm leaf plate is just as suitable for serving tasty food as other disposable plates. But the areca palm plates come in a modern, fancy design. Dishes served on these kinds of plates seem more decorative than on conventional paper plates. Show your guests that disposable tableware can be classy and surprise them with elegant palm leaf plates.
Palm leaf disposable plates are easy to store
The areca leaf plates have a low weight and are therefore easy to transport and store. In addition, they are stable and break-proof.
Palm plates from fair trade
We put great emphasis on products from fair conditions and cooperate with the manufacturer of our palm leaf plates. Greenbox also supported the business expansion and, subsequently, the security of yearlong jobs. We pay fair prices for good quality and personally assure ourselves of the local fair working conditions. Moreover, our palm plates are certified according to the global BSCI standards. The compliance with these standards is regularly controlled by re-audits by an independent, accredited institution.
A palm leaf plate is a real eye catcher
A palm plate is a feast for the eyes. Every plate has a unique structure. The reason for this is that palm leaf plates are pressed out of a whole leaf and keep the natural texture of the leaf. Grant your guests the incomparable opportunity to dine from environmentally friendly palm plates. Thanks to their noble appearance, disposable palm plates may also be combined with an elegant ambience. Natural, decorative and environmentally friendly!
Areca palm leaf plates are compostable
Our high quality areca leaf plates are a pure natural product. The plates do not have an additional coating and are pressed out of a whole leaf, without using any additives. For this reason, they are compostable after usage.
Green All Year Long instead of Black Friday 🍃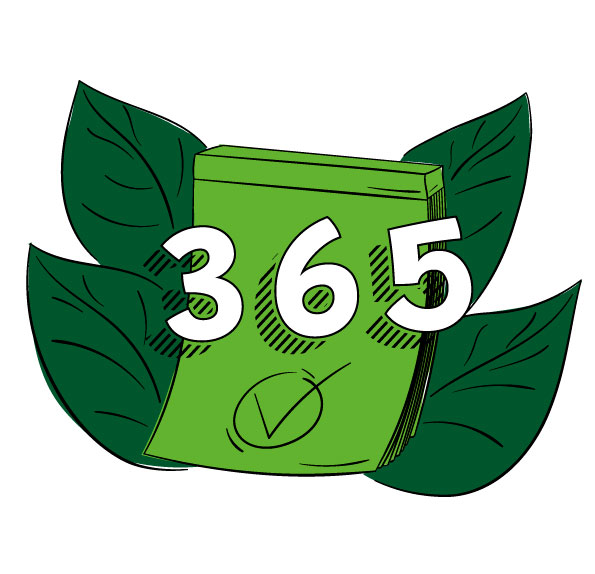 We remain true to our guiding principle of acting sustainably and climate neutrally.
As every year, we refrain from Black Friday.
Consequently, our prices will not go on a rollercoaster, as that would be neither fair nor sustainable.
With our products, you can shop consciously and environmentally friendly, all year round!